* Profile *
Five Of Us
::Ray:: ::Edmund:: ::LN:: ::Anna:: ::Jiahui::

SMU Ementors

Foodies, crappers and lovers of curry powders
* Links *
*anna vanessa
*Ray
*Jiahui
Happy Tree Friends
Link
Archives
September 2004
October 2004
November 2004
December 2004
January 2005
February 2005
March 2005
April 2005
May 2005
June 2005
July 2005
August 2005
December 2005
March 2006
April 2006
June 2006
* Tagboard *
* Thursday, June 23, 2005 *
Anna actually could forget we're going China! *Gasps*

Blue_Nanchakus
http://www.footballmotion.com/files/GANGSTER.swf

Chio gao pengz...

Blue_Nanchakus
* Sunday, June 19, 2005 *
WAHLAU EH LN.. you nothing better to do isit?
hahaha. damn funny la. but i dint manage to see the earlier one cuz it expired.
siao eh.. too much time ah?

can you all let me whine?
I am FUCKING tired. arghh. i need a holiday. my job is killing me and i have no social life at all. argghhhhh. i cant wait to quit. there's just so many things to do, to complete and to finish.
:( :(

goddamnit.

HAHA. anyway it's not true that i think everything's gonna be alright. not all girls think that way. I think.. everyting's never gonna be alright, nothing's gonna be perfect and so we need to solve the problem one by one. no point crying, not point thinking .
but of course, we can help but feel sad, feel useless, disappointed and what nots BUT we can always be assured that there will always people who love and care about us!

and i love all of you :)

I CANT WAIT TO GO CHINA!
* Thursday, June 16, 2005 *
i cant make it on sat.

anw, thanx LN for that post. and thanx edmund too for that chat. actually now i think that it's a bit silly really. u know how they say abt sometimes when u ignore a problem, it will go away? maybe this is one of it. HAHAHA. nah kidding.
i'm like feeling tons better now.
wait maybe i've never felt down over it before! hahaaa..

dont mind me, i'm getting quite high cos tmr is my last day of work heeheeeee... yeah! no more rowdy and out of control kids!!
* Wednesday, June 15, 2005 *
wah max is 18 secs... cannot make it...

ehh... this sat 9pm hor, jiak late dinner. hahhhaa
Hey girl,
Ok lah, from your post it's quite impossible to tell what's really troubling you, but oh well, maybe tell us more over bak chor mee and stingray over the weekend? Edmund organizing this time, hope he has better luck than me.
And you know how we guys are with advise over problems. Girls will tell you all the time that everything will be ok, which is quite nice sometimes (Anna, this is where you come in hor). We guys? We're different. We'll give you actual solutions. But hey, the 3 of us are killer salesmen (Anna said this before... ), we have a penchant of making problems seem like there's no problem at all eh? So there, one supper, I guarantee your problem *jang jang jang* disappear faster than I can change parade! (I was my company's change parade champion hor...)
In the meantime, play
this game
to destress... my longest is 20sec... who can beat me?
Eh Ed, dun read read then dun post leh. Since you so zuo boh lan, post leh...
Now Tao Hua Yun very pop hor? *hint hint* ;)
Blue_Nanchakus
* Tuesday, June 14, 2005 *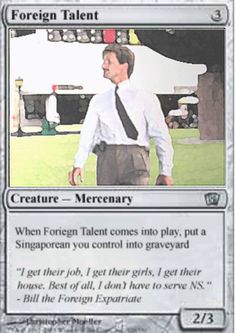 For Magic the Gathering fans... *Chuckle*
Blue_Nanchakus
* Sunday, June 12, 2005 *
hey peeps..

hope everyone's feeling well and dandy. those who are attached, thou ur gals r not in sg now, hope u're still happy. those gg to be attached (or look as if u're gg to be attached), i hope u're having a good time too...

well, i spent some me-time this weekend and i realised that after sweating it out and doing some therepeautic impulse buying, i'm feeling kind of rejuvenated. hahahaa..

anyway.

i've been feeling like i'm in some kind of a dilemma now.. looking at the tangle of things i've left behind, i'm beginning to feel more and more unsure of myself. to think i used to be so confident of myself last time. hah.
and having really weird dreams dont really help either.

p.s. LN.. that was simply HILARIOUS. do a translation for P.I.M.P when u're free!


hoping everyone's happy,
jh
* Thursday, June 09, 2005 *
Lmao.........

Gossshhhh LN........ Lmao.........
Aiyoh........ Dont know what to say sial..........

Lol........ Im stumped for words.........
Pretty good translation..........

Maybe when i get seriously boh liaoz then i go do something like that.........
:P
hahahahaa.. siao leh, i think our hols too long ahh.. everybody kee siao alr, it's my longest june ever. amazing, may was so much shorter...

aeiii, must find something to do
Hey guys,
You know seeing how we all so looking forward to go China and all, and I was SUPER bored at work, so I did the unimaginable. To improve my Chinese, I translated 50 cent's IN DA CLUB for your reading pleasure. And as much as I am aghast to admit, I actually enjoyed doing it! Hahaha... I think I did a pretty good job, but please don't flame me, coz sometimes it's difficult as hell to understand ghetto/rap language. I hope this tickles you, maybe you'll have your own fun translating your own song too!
(You can reference
this link
for the English lyrics and compare)
You can download the word doc
here
.
*Snigger* terok right?
Blue_Nanchakus
* Wednesday, June 08, 2005 *
Hohoho.......

It is Clingy......... The little kitty that is both adorable and hateful........
Grrrrr........ Fits the description of love huh........

Adorable when not PSing and PJing....... Hateful when PSing and PJing......

PS = Pang Sai(For Anna: Shitting)
PJ = Pang Jiou(For Anna: Urinating)

Arrrggghhhhh work is so bored........

Sianzzz man....... I mutha freakin hate this kinda life.........
I want school to start......... Coz theres at least friends in school......... :)

Regards Ray thats looking at the calendar date of July 18.........
Ciaoz..........
* Saturday, June 04, 2005 *
BUY COLDPLAY'S ALBUM
YES they are really damn damn damn good! chris martin is like WOAH. and will the drummer is like WOAH. and coldplay is like WOAH. okay yeah. anw, u must listen to speed of sound.. it is so pure, it makes u feel sth so pure, it's out of this world. and my fave "fix you". it's so indie yet so soft rock and yet so so touching. OUT OF THIS WORLD. i cant wait till the album's release!!!

ok yeah. that show chase... that gal is linda liao and dont u think she looks like fiona xie? which means tt she is not that pretty. her face is so small! i think she looks more and more like a mouse heeheee.
oh have i ever mentioned i met keegan kang in real person before? he took off his shades for us! hahahaa and i tell u, his eyes.... *swoons* enough said. he's cuter than utt!

ok i shd go to sleep. i got a loooooong weekend. nites.
* Friday, June 03, 2005 *
ho ho ho... i just had a durian high... $1 durians never tasted so good... and to top it up, buy 10 get 3 free!! woohOOoOooo... very very long never tasted such amazing durians... ohh man... haha, yes it sounds orgasmic, no it is orgasmic...

for more gastronomical and orgasmic treats... to china.. in 51 days!!

field report: LN watched MADGASCAR w/o us... stake him stake him...
* Thursday, June 02, 2005 *
Hey peepz,

I know I promised to blog more during this hols but tmd, the last 3 days have been hell for me man. Monday I ran up 39 degrees fever plus diarrhoea, killer combo lah. Simi lan also cannot eat. Today recover come back to work, *JANG JANG JANG!!!* I tio duty for Police Day Parade. With this, I dedicate to you my favourite poem:

Song song gao Jurong
Swee swee boh zhao zhwee
Shun shun char bee hoon
Lan lan jiak tau suan
Siao siao ku ku jiao

Ok enough of that, I must make a quick intro to 2 new albums I just listened to the last week. This first is local singer Corrine May's new album Safe in This Crazy World. Wah I tell you hor, this woman can REALLY sing man. Her voice like can give you an orgasm anytime man. Ok I exaggerate, but seriously man, her voice is really gan pua power lor. If y'all have time watch Chase on channel 5 I think on Thursdays (I think, I dunno, I also never watch). Her song is the main theme for the show. Hurry though, 2 part finale liao. For the girls, there is Utt, and to a lesser extent, Keegan Kang. For the guys, the female lead (dunno the name) is gan pua, and I mean GAN PUA chio. And then there is Corrine May's song. How to go wrong? Those cunning producers...

The seond album I must intro is admittedly downloaded. Boh pian. Worldwide release only on 6.6.2005. But it's COLDPLAY! Coldplay leh! How to wait! So my backside itchy, and after hours of searching, I finally managed to download their new album X and Y. *Sobz* They didn't disappoint after all. This is their 3rd attempt and every song is so so good, oozing with class and panache throughout. And with Chris Martin's voice backed up by amazing guitar riffs and groundbreaking rhythms, how to go wrong? (Aside: prob only JH will understand my anxiety about this) I will still buy the album, just to show I'm a true blue Coldplay supporter, and long may they rock on.

Bowels tingling again. China beckons...

Blue Nanchakus